XBOX LIVE 14 day GOLD TRIAL Membership CODE INSTANT DISPATCH - 2 weeks 14 days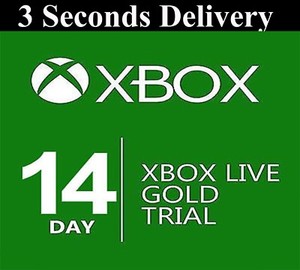 ---
Xbox Live 14 Day Trial Membership CodeXbox 360 or OneWe do not deliver to  inbox message - only via EMAIL
DUE TO THE HIGH INCREASE IN ACCOUNTS BEING HACKED, WE MAY NEED ADDITIONAL INFORMATION FROM YOU BEFORE YOUR ITEM CAN BE SHIPPED.WE WILL ONLY SEND CODES TO YOUR "PRIMARY" EMAIL ADDRESS THAT IS LINKED TO YOUR PAYPAL ACCOUNT, YOU WILL RECEIVE AN EMAIL CONTAINING YOUR CODE Check your registered email on PayPal and account first, make sure is the one you have access to. If it is an old email then you must change your email address on and paypal before you purchase from us.(MAKE SURE THE CORRECT EMAIL IS THE PRIMARY BEFORE MAKING THE PURCHASE)SIGN INTO YOUR PAYPAL AND GO TO SETTINGS TO SEE WHICH IS YOU PRIMARY EMAIL BECAUSE YOU CAN HAVE MORE THAN ONE EMAIL ON YOUR PAYPAL.SO MAKE SURE THAT YOU HAVE UPDATED YOUR PRIMARY PAYPAL EMAIL TO YOUR CURRENT ONE, BECAUSE WE WILL NOT SEND IT TO ANY OTHER.WE NO LONGER SEND VIA MESSAGE DUE TO THE MASSIVE INCREASE OF ACCOUNTS BEING HACKED.ANY ACTS OF FRAUD WILL BE REPORTED TO , PAYPAL AND THE FRAUD PREVENTION AGENCY IMMEDIATLYYOU WILL NOT BE ABLE TO BUY THIS IF YOU ARE USINGA VPN NETWORKPROXYOR ANY BROWSER THAT HIDES YOU IP ADDRESSXbox Live 14 Day Trial Membership CodeXbox 360 or OneYou cannot use these codes if:

You currently have gold (wait for gold to expire then use)

You are currently using a trial (wait for trial to expire then use)

You have an outstanding balance on your account (your account status will show as suspended, you will need to pay that balance first before you can use it)

A REFUND WILL NOT BE GIVEN FOR ANY OF THE REASONS ABOVE, AS THEY ARE THE REASON YOU CANNOT USE IT, IT HAS NOTHING TO DO WITH THE CODE ITSELF.

THE CODES DO NOT STACK, YOU CAN ONLY USE 1 CODE AT A TIME

DO NOT USE MULTIPLE CODES AT ONCE

WAIT FOR EACH CODE TO EXPIRE BEFORE USING ANOTHER

The Xbox Live 14 Day TRIAL gold code allows you to have some of the benefits of goldJoining party's, playing online multiplayer!(YOU WILL NOT GET GAMES FOR GOLD OR OTHER GAME DISCOUNTS OR ACCESS TO THE CLOUD STORAGE)The code will not turn your account into gold, you will still remain a silver member but have the benefits of gold stated above. The codes can only be redeemed on a silver account. If you already have an Xbox live gold membership you will have to wait for it to expire before redeeming the new code otherwise it will give you the ''Invalid code'' error.The codes will not show in your subscription page as they are only a trial, and they will not appear in your account purchase history either, as they are not something you can buy on the xbox store.SUPER FAST DELIVERYInstant dispatch!!I am the legal owner of this content as I purchased the physical item and have these to handNot suitable as a giftTHIS IS A PRODUCT KEY ONLY, NO BOX ITEM WILL BE SENT.