Old Primitive Antique Brass Fingertip Candle Holder Chamber Stick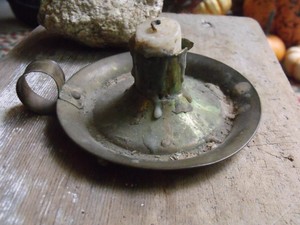 ---
Old Primitive Antique Brass Fingertip Candle Holder Chamber Stick Old Primitive Antique Brass Fingertip Candle Holder Chamber Stick

Click images to enlarge

Description PLEASE CLICK ON "READ MORE" AND READ FULL DESCRIPTION AND SEE MORE PHOTOS! I went to not one, but Two auctions in one day (I know I'm awesome!) and have so many cool items to list this week. One of the auctions was the estate of a couple that owned a rural radio and TV store, according to the auctioneer, from 1940 until 1970. They frequented the rural auctions, and collected many many antique treasures. When they passed, their stuff was literally packed in boxes and had been kept in storage for decades. The auction was filled with not only their collections, but also generations of family pieces dating back to the mid 1800s. Also, be sure to scroll all the way down to the bottom of all of my listings as I usually have MORE photos down there, too! AND…I might as well say it from the get-go. ALL of my items this week are DIRTY, DUSTY, COBWEBBY AND DEBRISY, all barn lived for a long time, and ALL will need a good cleaning. I do not clean or mess with as found patina in any way. Also please note that I've made some changes to my payment and combined shipment policies, which you can see highlighted in my detail below. Yup, you can see that this one is well used, and it still has the old candle inside to prove it! This is a very old brass chamber stick - fingertip tapered candle holder that I'm sure made many trips to the outhouse! It is made from thin brass and weighs only a couple of ounces - and I'm sure at least half of that is the wax! The candle is inside of the well well - and I couldn't pull it out with my light tug - I didn't try too hard for fear of breaking it - it already has some damage to one side of the well where you can see that there's a 1/2" piece of the edge that is raised up via its cracks on either side - it's still attached, but it's damage there. See photo 9. I don't know if you will be able to get the candle out without causing further damage, please know, so I'm selling it as is and all part of its story! That's the only damage that I can see on the piece. If you look in photos 11 and 12, you can see what looks like grey solder that I assume MAY have been an old repair - I don't know, it could be original, but the piece is totally solid and sturdy except for the well edge spot mentioned above. There is wax on the inside of the drip pan in the crevaces - see photos 14 and 15. The piece is pretty barn fresh dirty, and does need a good cleaning - I do not clean or mess with as found patina in any way. And speaking of patina, this one is dark and yummy and that includes green oxidation, too. Check out the only decoration on the piece - which is s simple star design in the brass of the fingertip handle - see photo 4. It measures 4" diameter at the drip pan, 4 3/4" wide handle to end of drip pan, and it's about 1 5/8" tall to the top of the candle well - it's hard to measure with the candle inside. To a good home only that appreciates its story! Customer Satisfaction is extremely important to me.  If you receive an item and are not satisfied in any way, please contact me before leaving feedback. If you are using a phone or tablet to look at listings, you may not be seeing full descriptions – please make sure you are – I list sizes, condition and many photos on all of my items – so if you are not seeing that, you're not seeing all I have about the listing. Please ask if you have any questions, or feel free to inform me if you have any information about one of my listings.  As with any of my items, if you ever need extra photos, let me know.  My white stool, my rug and anything else that you see other than the item discussed are not included in the auction! PAYMENT IS DUE IMMEDIATELY(SAME DAY) AFTER THE CLOSE OF AN AUCTION. I'm happy to combine shipments for you, when possible - depending upon size and weight, it might not always be possible, though. If you win an item and plan to bid on another, please email me to let me know that you are looking at other items, hold to pay for the first item and request a combined shipping invoice once you've won the other item/s. If you pay for an item, I have to ship it, I cannot hold for items that close another day, if you pay for the first item. Unless you ask me for an invoice earlier, I will invoice on Sunday for multiple items purchased the week prior, or after 5 days have passed since the item that you won has closed. 5 (FIVE) days from the closing of the FIRST bought item will be the longest I can wait time wise to combine, and I ask for immediate payment after invoice for combined orders. I NOW HAVE 'S UNPAID ITEM ASSISTANT SET TO AUTOMATICALLY FILE A CLAIM FOR PAYMENT 8 DAYS AFTER THE CLOSE OF AN AUCTION, WHEN NO PAYMENT HAS BEEN MADE -  PLEASE KNOW. Please know that some items cannot be combined, though, do to size, weight, or safety of the items.  Many items that are set to ship in USPS FLAT RATE boxes; I cannot combine due to size restrictions. Please look at the shipping alternatives in the listings.  I only mail USPS and pack in the best manner that we feel safe – I cannot change shipment methods after the close of an auction (i.e. rolling an old map to save money when I have it set to ship flat), especially if I feel the requested method is not safe.  Again, I only ship USPS and charge actual cost to ship only. I ship within one business day of receipt of your payment, unless there's a holiday that closes the post office, or I will notify you otherwise.  As I shop for treasures on the weekends, I most often do not ship on Saturday. Most items closing and paid for on Friday will be shipped on Monday. Many of my items come from local rural estate sales and auctions.  They are coming right from the barn or attic to you - dust, dirt, cobwebs and all!  I do not clean and polish before I sell – they are in the condition found, as you see in my photos, and I leave the patina exactly as it was when I bought the item.  I do my best to photo and describe all thoroughly. Please email me before bidding if you do not use PayPal, as Paypal is the only requested method of payment on this listing. With postage rates increasing regularly, I am shipping more and more items Parcel Select. Parcel Select travels by land or rail and the packages do not leave the regional post office until they fill up a bin going in the same direction (so the estimated delivery is truly only an estimate – not exact).  The post office estimates 5-7 days, but it can go up higher, sometimes even 3-4 weeks in peak mailing times like the holidays.  I always provide a tracking number, so you can see where your item is on any day. Sales tax will be added for Illinois buyers. …and thanks so much for looking, I appreciate having you as a customer!
| | |
| --- | --- |
| Get images thatmake Supersized seem small. | Tailor your auctions with Auctiva'sListing Templates! |
THE simple solution for sellers.

Track Page Views WithAuctiva's FREE Counter