Antique Bent Wood Shaker Pantry Box w/Handle & Finger Hold Lid Great Display!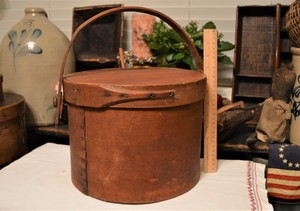 ---
Bent Wood Shaker Pantry Box with Bent Wood Handle with Old Peg Holds.  Very nice box from selective collector's estate.  The box is in good shape but has moderate wear. The peg hold holes have worn some with age and there is some slight cracking in bent wood handle and some minor splitting in bent wood as shown in pics, but fairly solid overall.  Please review multiple pictures taken for your consideration and use zoom feature if needed.There was some old green paint on inner rim edge of box, not sure of its origin as it is not elsewhere on box & the box has not been stripped.  Perhaps someone painted another box that was sitting on top.  This has very old iron nails and several square wood peg tacks that put this in mid to later 1800's.  We think originally this had many more wood tacks in place, but they were replaced with some iron nails over the decades.  There are leather buffer guards on handle at peg holes that were a later addition, probably to keep wood from rubbing.Approx: 11" D x 8.5" H (7.75" without lid), good mid sized box for display.

We ship with extreme care! 7% Sales tax is for Indiana residents only.  Of course there is free local pick up and we can meet to assist if you are near Indianapolis or driving through.  We do this often.  We require signature confirmation on most items above $100, unless you request otherwise.  Also, we have discounts with FedEx & on shipping which do not always show up in estimates on shipping. We try to refund what we can when there is a notable difference, but we do not know until we actually run shipping.

Please follow our store if you love rare antiques, primitives and collectibles of many types.  We scour the land for the rarest and neatest of items for our Buyers who love them.  We offer everything from rusty industrial to fine art by renowned US and foreign artists.  We have Americana, Antique advertising, Salesmen samples, Oil Paintings & sculptures by noted artists, Farm Primitives, Antique lighting fixtures and Aladdin lamps, militaria, sports memorabilia and much, much more.  We usually have about 400 items in various price ranges from $5 to $15K+, but our inventory changes almost daily.  We have sold to Hollywood, Corporate Executives & CEO's, Resorts, B& B's & Museums, but mostly to people who simply love rare and nifty items.  It is our honor to offer these treasures to you.Please note our feedback & Buy with confidence. We offer premium quality items and provide lots of pictures (we count on our detailed photos to assist with describing the treasure) to assist you.  Our packing is top notch (often taking 30 minutes to over an hour on delicate items).  We exhaust ourselves to get your new treasure safely home.** See my positive comments from other buyers - I'm a longtime Seller in GOOD standing. Rest assured that what you will receive is EXACTLY what is shown and detailed in this listing.   Don't forget to visit our store. We COMBINE shipping!  Over 400 items that need their forever home!